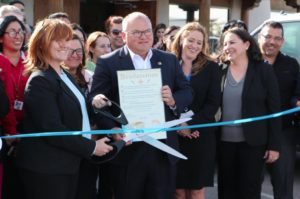 Peak Behavioral Health had its ribbon cutting ceremony for its newest outpatient center in Las Cruces on April 4, 2019. Tours were provided by staff and interim CEO, Sandy Emanuel, of Peak Behavioral health spoke to attendees about the intent of opening the center is to address the critical need for intensive outpatient treatment services in Las Cruces. The Las Cruces outpatient center is open for providing treatment Intensive Outpatient and Partial Hospitalization services for individuals with mental health and substance abuse needs.
"Our goal in opening the Las Cruces intensive outpatient treatment services is to offer services to prevent inpatient psychiatric hospital admissions and to be a much needed continuum of care for individuals to successfully transition home," said Sandy Emanuel. The Center will serve Las Cruces area residents referred from local ER's, treatment providers, hospitals and substance abuse treatment centers. Peak Outpatient Center offers two treatment tracks based on the needs of the patient. The Intensive Outpatient Program (IOP) works well for those patients who want to continue working or going to school while continuing their outpatient treatment, and the Partial Hospitalization Program (PHP) works with patients needing additional support to ease back into the community after an inpatient stay.
Contact Peak Behavioral Outpatient Treatment Center at (575) 526-0927 for more information or an assessment or visit www.peakbehavioral.com/outpatient.