What Is Mental Health Therapy?
Mental health therapy is a treatment intended to relieve or heal an emotional or behavioral disorder. Most therapy involves a dialogue between a professional therapist and a client or group of clients. Talk therapy helps clients develop strategies for dealing with  feelings and emotions that often feel out of their control.

If you think you or someone you know could benefit from Mental Health Therapy at Peak Behavioral Health, please call us 24/7.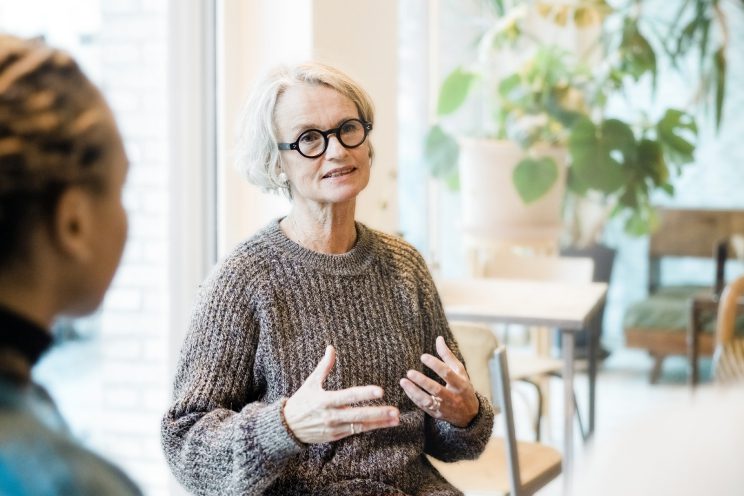 Mental Health Therapy FAQs
Types of Mental Health Therapy
What Is The Purpose Of Mental Health Therapy?
The main purpose of mental health therapy is to help clients overcome personal challenges or learn how to best cope with them so they can feel empowered to manage life with greater ease and happiness.
Before a person seeks out therapy, they should consider their goals for therapy. This not only gives the therapist direction, but it also makes the best use of time for the client. After the first or second meeting, most therapists will start to help the client set personal goals and give them specific tasks to practice or accomplish.
How Long Does Therapy Take?
Recent research suggests that therapy is most productive when clients attend 12-16 weekly sessions. Factors that attribute to length of time in therapy include insurance contribution, personal finances, work schedules, type of disorders or problems being treated, and the goals of the patient.
Is Therapy The Best Solution For Help?
Therapy is usually the best option to successfully manage mental health disorders. When therapy is not enough, a combination of therapy and prescribed medication can help.
Benefits Of Mental Health Therapy
Throughout life, most people will face difficult situations or undergo experiences that result in powerful feelings of sadness, anger, and anxiety. Therapy can certainly be helpful in guiding people through these experiences and feelings. However, some people suffer from mental health disorders that result in intensified and prolonged emotional or behavioral issues that significantly disrupt their ability to function. In these cases, long-term therapy may be combined with medication to address the client's needs.
Common Reasons to Seek Therapy
Though risk factors do not cause or predict suicide, they may make it more likely that an individual will consider or attempt suicide. Risk factors for suicide may include:
These symptoms aren't exclusive to heroin use, but if your loved one has a history of substance abuse and you suspect heroin use, get them help before it's too late. Your suspicions are likely correct.
Types Of Mental Health Therapy
Talk therapy can come in a number of different modalities. People may try several types of therapy or therapists before the finding the one that best fits their needs. Below are some of the most common types of therapy for treating mental health disorders. 
Cognitive-Behavioral Therapy (CBT)
CBT has two main elements, cognitive (thoughts) and behavioral (emotions and actions). The therapist works with the client to help them become aware of how their thoughts affect their emotions and behaviors. As the client learns how to recognize negative thought patterns, they can shift them to more positive ones. This leads to healthier choices and behaviors. CBT is used for a number of mental illnesses, such as depression, anxiety, bipolar disorder, eating disorders, and schizophrenia.
Dialectical Behavior Therapy (DBT)
DBT is based on principles of cognitive-behavioral therapy but is designed to help people whose emotions tend to overwhelm them. The therapist helps the client acknowledge and accept the reality of their situation, while also working to help them find ways to take control of the situation, particularly by adjusting their thoughts and behaviors. DBT is helpful for people with borderline personality disorder, PTSD, eating disorders, and for anyone who has trouble managing their emotions.
Recreational Therapy is based on the premise that a moving and active body and mind generally help to improve the happiness and overall health of an individual. In addition, clients often find it easier to open up with a therapist if they are focusing on a particular activity, like painting or drawing, brushing a horse, navigating a ropes course, etc. While Recreational Therapy is an excellent tool for most patients, it is often especially helpful for  seniors, children, individuals with developmental disabilities, and those who have trouble talking about their emotions.
Eye Movement Desensitization & Reprocessing Therapy (EMDR)
EMDR is based on the theory that people process and remember traumatic experiences differently than other memories, in a way that makes the memories difficult to access and heal. An EMDR therapist directs the client through a series of specific eye movements as they are asked to recall traumatic events. These eye movements, in combination with the way the event is recalled, help to heal the injury caused by the memory. EMDR can be useful for many types of mental health disorders but is especially effective for PTSD and other mental illnesses based in trauma.