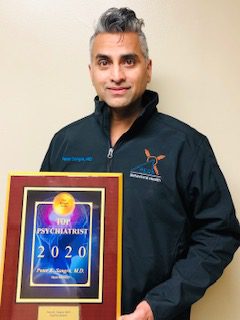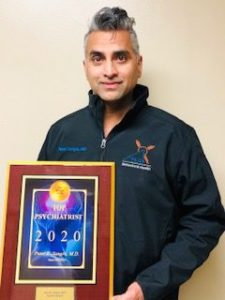 Each year America's Best Doctors and the syndicated national outlets feature a special edition highlighting the accomplishments of physicians to help advance opportunity and advocacy within the medical profession.
Peak Behavioral's Child and Adolescent Medical Director, Dr. Peter Sangra has been awarded Top Psychiatrist in Santa Teresa for 2020.
An esteemed professional in the field of child & adolescent psychiatry, Dr. Sangra is responsible for diagnosing, treating and preventing mental disorders in children, adolescents, and helping families through the process.
"You are like an angel that helped us believe in miracles" said the parent of one of Dr. Sangra's patients.
With a broad educational background, Dr. Sangra graduated with his medical degree from the American University of Antigua. He then went to perform his residency in psychiatry at the Louisiana State University Health Sciences Center 2013 and fellowship training in child and adolescent psychiatry at Texas Tech University Health Science of El Paso, TX 2017.
A member of the American Academy of Child and Adolescent Psychiatry, he is board-certified in psychiatry by the American Board of Psychiatry and Neurology (ABPN). The ABPN is a not-for profit corporation dedicated to serving the professions of psychiatry and neurology.
Peak Behavioral Health Services is proud to have Dr. Sangra in our team where we place a strong emphasis in working with the entire family with the goal of restoring a sense of hope, bringing balance to the family and providing a tailored treatment plan based on the individual's specific needs.